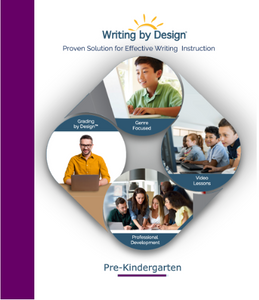 Pre-Kindergarten -- Printed & Online Teaching Manual
Regular price $395.00 Sale
Designed for the Pre-Kindergarten or Transitional Kindergarten teacher, this package includes the following:
Writing by Design® Printed Teaching Manual
Writing by Design® Online Teaching Manual (1 teacher license) for off-site planning and computer projection. Optional annual renewal, $50.
Free password-protected access to supporting documents and teaching resources
The purpose of the Pre-Kindergarten Writing Manual is to guide students through telling and drawing stories with descriptions, along with identifying initial sounds/letters in words and practicing writing them. Although the lessons focus on pictures, pencil control, initial letter sounds, and a few high-frequency words, this instruction is not intended to be the entire language arts curriculum. Specifically, it provides a structure for early writers to focus, draw, and verbalize what they are thinking. This will enable students to begin Kindergarten with early emergent and emergent writing skills. The following targeted early emergent and emergent writing skills are addressed:
Use five and three-finger grips.
Scribble left to right and top to bottom.
Begin to string together letters with a focus on initial sounds.
Write their name.
Draw the beginning, middle, and end of a story.
The message makes sense.
Stories have a logical sequence.
Revises pictures
The Pre-Kindergarten Manual consists of five units. Each unit builds on previous skills to develop pencil control, the ability to draw simple pictures, establish initial sounds, use the vocabulary of a writer, and the eventual writing of a few high-frequency words. Each unit emphasizes students telling stories and describing objects and situations. Students need to be able to verbalize their ideas before they can write them. Four of the units include five weeks of instruction or 25 lessons each and the fifth unit includes ten weeks of instruction or 50 lessons. In total, the manual includes 150 lessons. The unit introductions provide a description of the skills for each unit.
Writing by Design® uses recommended picture books, which are listed here.