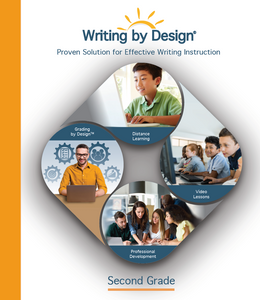 2nd Grade -- Printed & Online Teaching Manual
Regular price $395.00 Sale
Designed for the 2nd grade teacher, this package includes the following:
Writing by Design® Printed Teaching Manual
Writing by Design® Online Teaching Manual (1 teacher license) for off-site planning and computer projection. Optional annual renewal, $50.
Free password-protected access to supporting documents and teaching resources
 Teaching Manuals
Each manual provides step-by-step comprehensive lesson plans for instruction of  genre-specific writing: (1) Personal Narrative, (2) Summary of a Narrative Text, (3) Summary of an Informative Text, (4) Informative, (5) Opinion of a Topic, and (6) Opinion of a Book.
 Lessons are supported by:
Rubrics
Model Papers
Introductory Six Traits lessons
Pictorials and lesson references to Six Traits and Genre Charts
Reproducible student handouts and worksheets
Common Core Standards alignment
"No Excuse Spelling" K-8 and grade-specific word lists
Revision and Editing tools and exercises
Supportive lesson resources
Differentiated teaching tips for ELL and students with special needs
Writing strategies
Engaging beginnings and conclusions
Figurative language definitions and examples
Advanced Parts of Speech/Word Choice examples
Academic language reference
Authentic Assessments
Lesson-specific recommended picture books
Spanish-translated resources
Writing by Design® uses recommended picture books, which are listed here.